Information about The Bridges Golf Club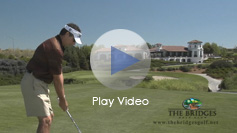 The Bridges Golf Club, one of Northern California's highest rated courses, is located 35 miles east of Downtown San Francisco in the rolling foothills of San Ramon.
We offer a beautiful wedding reception and ceremony facility and our professionalism is unmatched in Northern California. The Bridges also offers golf instruction, tournaments, lighted driving range, online tee times, an elegant event venue, restaurant and bar for our guests.