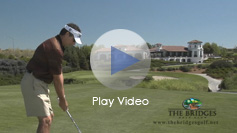 The Bridges Golf Club, one of Northern California's highest rated courses, is located 35 miles east of Downtown San Francisco in the rolling foothills of San Ramon.
We offer a beautiful wedding reception and ceremony facility and our professionalism is unmatched in Northern California. The Bridges also offers golf instruction, tournaments, lighted driving range, online tee times, an elegant event venue, restaurant and bar for our guests.
Our annual membership is the perfect way to be fee-less year round. Offering Individual, Senior and Family Memberships. Email Director of Golf Dan Osterberg at dosterberg@thebridgesgolf.com or call the golf shop at 925-735-4253 for more information. We look forward to seeing you at The Bridges Golf Club.